Aroni & Makedonomachon, Akrotiri 731 00 Chania
Plumbing Trade  -Plumbing Installations – Eurothermiki – Chania
The company Eurothermiki is active in the trade of plumbing and plumbing and is based in Chania.
Eurothermiki was founded in 1995 in Chania by the brothers Alexio & Nikolaos Tsangarakis. It is located in Aroni Akrotiriou and its object is related to all applications regarding plumbing, plumbing trade, plumbing and energy.
The wide range of the object (water supply, sanitation, swimming pools, gases, heating) combined with the know-how, through seminars, makes it as the most competitive in the industry.
In recent years, Eurothermiki, apart from the plumbing trade, has been activated in the field of RES (renewable energy sources). More specifically in the fields of geothermal, solar-thermal, photovoltaic etc. Today after the necessary certifications of the products, according to ISO-TUV, and the proven proper functionality of their facilities, they can guarantee you the optimum relationship of your investment cost with the final required performance.
Services:
Plumbing: Plumbing trade, water supply, sanitation, fire safety
Heating: Solar thermal, geothermal, underfloor, radiator
Solar Thermal Systems
Swimming pools: Installation of plumbing installations
Thermothermic Works:
Saving energy in pre-existing hotel facility ZNCH:
In the image below is a mirrored installation for the hotel in Chania. Initially, it operated with a storage boiler without an internal alternator. It was connected to a circuit of solar mirrors with an open circuit board. The external alternator now warms the primary boiler when it is required. Also changed the connectivity to the boiler with the mirrors. Instead, a stratification system was constructed with Electrovalves, which are controlled by a table with thermometers. The above conversion resulted in savings of order 30, where the first session was depreciated.

Conversion of twin pressure band on-off to inverter:
This project replaced the existing painting of an old twin pressing complex, with a new inverter technology. That's how the hotel's water supply stopped. Also the pressure is stable throughout the network, there is more economical operation on the issue of power consumption and in addition there is no damage to the mechanical equipment.
Other projects:
Energy upgrade of General Hospital of Kalamata: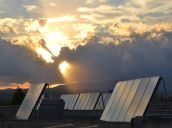 Underfloor Electric Heating:
Manager : Alexios Tsagarakis 
Aroni & Makedonomachon, Akrotiri 731 00 Chania
T: 2821083860, Μ: 6944516319
Construction – Plumbing Supplies & Materials – Plumbing – Plumbing Installations – Hydraulic – Alternative Energy Sources – Plumbing Installations in Chania – Plumber in Chania – Chania