Promitheos 17, Acharnes 136 71, Attica, Greece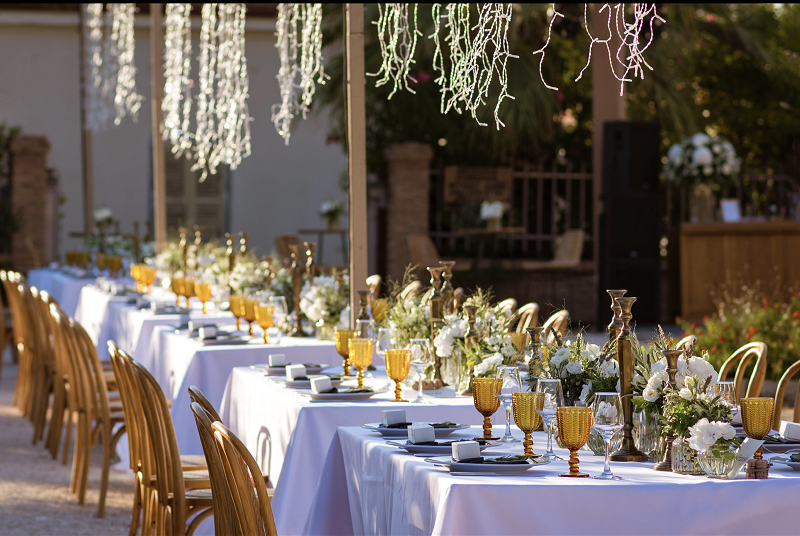 Event Equipment Hire – Acharnes – Creation
About the company Creation, is active in the rental of event equipment and is based in Acharnes, Attica, was founded in 1996 by Christos Liaros & Angelos Hiachna and is one of the most established in its field.
About Us:
Target of the company Creation is to raise the bar in the services Rental Event Equipment, social and corporate.
With the finest variety and complete proposals in the field of equipment can cover up to 9,000 people.
It has a significant lead in high aesthetic equipment such as fabrics(silk, damasque and genuine linens all in a wide variety of colors), gold plated and silver plated cutlery, crystal clear Glasses, unique utensils and many other options in both classic and modern lines.
Combined with the best market prices make the Creation The only complete solution for the needs of your event.
The executives of the company are trained and ready to serve you and give you solutions designed only for you. We believe and invest in Human Resources, which is the most important pillar of success and great resistance to our company's time.
Services – Products:
Cutlery: Gold plated – silver plated – Inox
Chairs: Indoor and outdoor with cover or without in beautiful colors
Tableware: Dishes – Glasses – Buffet – kitchen utensils-crystal glasses-unique dishes from fine porcelain
Fabrics:Special Fabrics-Buffet – Runner – Chair Covers – Naperon – towels – tablecloths
Tables: auxiliaries – Buffet – Rotunda – Squares
Furniture:Special Furniture (Βar – Sofas – Stools and many more)
Equipment:for cold and heat (stoves – awnings – umbrellas outdoor-cotton candy – Popcorn – ice cream Trolley – chocolate fountain)
Kitchen equipment
Art de la table
Professional staff
Transfer to your place