Sofias Vembo 27, Glyfada 165 61, Attica
Cleaning – Voula – Attica – Ariston Cleaners – Laundry
Ariston Cleaners – Eco – Friendly – Dry Cleaners & Laundry
Ariston Cleaners is active in Voula Attica and is a family business with three generations of experience, providing high quality cleaning services.
ROUCH – CHALION – VOULA – ATTICA – ARISTON CLEANERS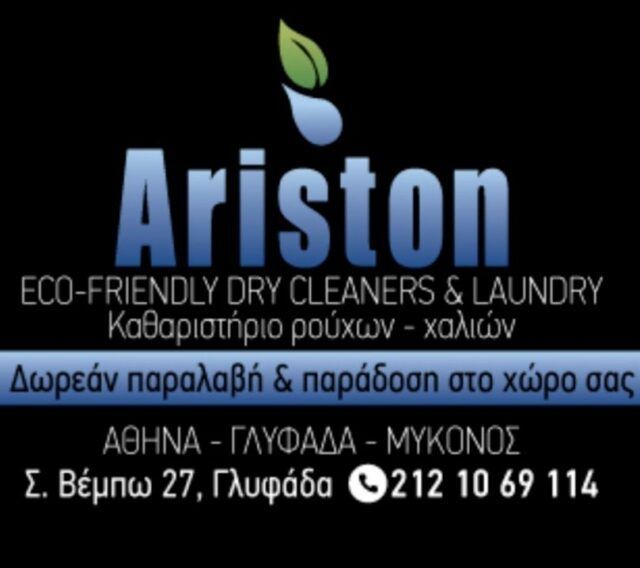 Cleaning Ariston Cleaners is addressed to individuals, professionals, security bodies and hotels, as it has excellent know-how and equipment of the latest technology in washing machines and dryers.
The Laundry Ariston Cleaners takes over The cleaning and cleaning carpet storage, carpets for wet cleaning and handmade carpets for dry cleaning with the better security and bestprices.
Services – Products:
Cleaning clothes
Carpet cleaning
Carpet storage
On-site cleaning of salons – carpets – mattresses
On-site cleaning of vessels
Biological cleaning
Dry cleaning
Tumble dryers
Washing machines
Boat washers
Yacht Services
Professional washing machines
Clothing repairs
Airbnb
Free Delivery
Ecological – Organic soap for clothes
Cleaned:
→ Curtains
→ Blankets
→ Covers
→ Duvets
→ Luxury dresses
→ Wedding Dresses
→ Leather
→ Furs
◊ Free pick-up & delivery at your place.
◊ Economic and clean as anywhere
T: 2121069114
Sofias Vembo 27, Glyfada 165 61, Attica
Provision of services – Voula Cleaners – Voula Cleaner – Voula Laundry – Laundry Voula – Voula Laundry – Voula Carpet Cleaner – Voula Clothes Cleaners – Voula Carpet Cleaners – Voula Dry Cleaners – Voula Dry Cleaners – Voula Dry Cleaners – Voula Leather Cleaning – Professional Washers B Voula Cleaning Services – Voula Yacht Cleaning Services – Organic Cleaning of Voula Lounges – Organic Carpet Cleaning Voula – Voula Carpet Storage – Eco – Friendly Voula – Ariston Cleaners – Voula – Glyfada – Ano Glyfada – Greek – Southern Suburbs – Athens – Attica.